Viet Beliefs in Mother Goddnesses of the Three Realms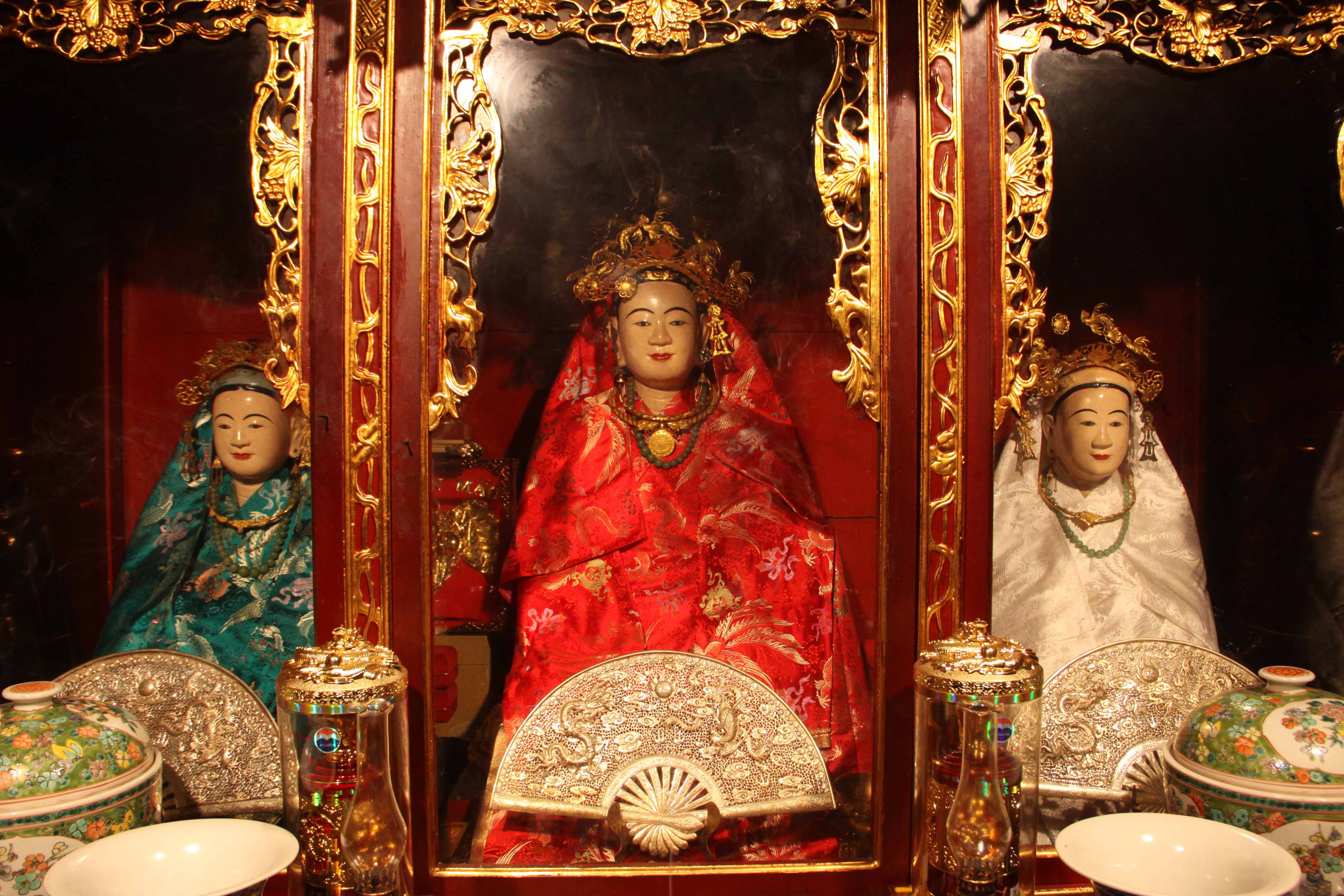 Origins of heritage: Northern part
Venue: palace, temple, and shrine dedicated to the Mother Goddesses of Three Realms
Time: all year round, especially during the festival dedicated the Mother Goddesses, notable one Dầy Palace festival from the third to the tenth of the third lunar month.
Material: rituals, festivals, music, songs, costumes, traditional musical instruments, props, offerings, votive offerings.
The subject culture: Việt communities in Northern West and Northern East areas, and the Northern, North Central and Southern parts
On the ground, the worship of female spirits, beliefs in theMother Goddesses of Three Realms (heaven, water, and forest) have been powerfully developed. From the 16th century, the Beliefs of the Mother Goddesses have widely and deeply influenced social life and consciousness of people. They worship Liễu Hạnh Mother Goddess, along with Mother Goddesses of heaven, water and forest, and spirits who are historical or legendary heroes that have aided people and country. According to bibliography and legends, Liễu Hạnh was a nymph who descended to the earth, lived as a human being, then became a Buddhist nun. She has been worshiped as "The Mother of the World" and as one of the four immortals of the Việt. The main practices of the Mother Goddesses include spirit possession rituals and traditional festivals among which the most notable are the Dầy Palace festival in Nam Định province from the third day to the tenth day of the third lunar month (the death commemoration of Liễu Hạnh Mother Goddess) with the special folk performances such as the word arrangement and the procession of Buddhist scripture. Through traditional cultural elements including costumes, music, dance, and folk performances in the spirit possession and festival, the Việt express their views on history, cultural heritage, gender roles and ethnic cultural identities. The power of Beliefs in the Mother Goddesses is in its meeting the spiritual demands and desires of daily life of people for good fortune in health, work, talent, and business.